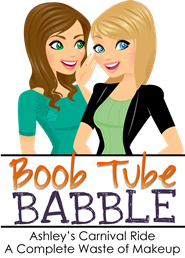 I'm having trouble doing a write up of all the shows I watch. It's kind of sad just how much tv I watch in a given week. Well, that's what happens when your job is to freelance write/take paid surveys/be a domestic goddess. So some shows I watch in the background while others I'm riveted to from start to finish. I swear I do go outside at least once a day! 😉
That said this is what I watched this week:
–How I Met Your Mother: Drumroll please! Oh Victoria, she is so sweet. I am so glad that the writers didn't have Ted and Victoria get back together. As much as I love her, we know she's not the mother, so it's time move on. The little bomb dropped at the end about how the friendship with Robin wasn't working was pretty big. We know that in the first episode
–Ellen: The most adorable of actresses, Jennifer Garner, was a guest this week. I just love her!
–Parenthood: I feel so bad for Julia and their adoption woes. So sad. Haddie needs to end her relationship. He's a great guy but it's just way way too adult for her. According to previews, it looks like he feels the same way.
–Modern Family: Laugh out loud episode, especially with Cam and Mitchell. Did anyone else see that flip out scene of Mitchell coming? I know I didn't! I love how much Jay loves that little dog, especially since he said he didn't want it.
–The Middle: Poor poor awkward Sue Heck. Like Axl says, she's such a dork optimist! Love it. But ugh, the Heck house makes my OCD skin crawl. I just want to come over there and clean it. Do people really live like that?!
–Happy Endings: Year of Penny! How much do you love Penny's apartment? Isn't it amahzing? Lol! Great episode, funny as per usual.
–Parks & Recreation: Oh John Ralfio. I love his appearances, he's such a random, douchy bag of awesome. His and Tom's company is going to tank so fast! I loved the bag of crazy that was the Tammy circle in Ron's life.
–Community: Britta has gotten so gross! Wasn't she the sex symbol of the show before? I loved her scenes with Chang though. Cracked up. I need more Abed in my life, let's get an episode where it's focused on him and his awkwardness shall we?
–Grey's Anatomy: Seriously? Why must this show go back and forth with the stupid relationships. There are outside forces that can cause drama. It doesn't always have to be will they or won't they get back together. Stupid MerDer. Why do I keep watching this show? The first two seasons were SO.MUCH.BETTER. I miss Izzie and George!
–The Vampire Diaries: Stephan has another ex love besides Katherine? Ooooohhh. I'm entrigued. Does this mean the way has been cleared for Elena and Damon to finally be together? Make it happen people! Also, how cute was Tyler rescuing poor Caroline. I have really grown to love her character and I was glad she was saved by the hunky werewolf.
–The Secret Circle: Deranged psychos chasing down the witches? Eek! It was a pretty cool episode. I liked it better than last week's. I don't get why the group can't use their powers at least slightly when they're alone. Seems kind of lame, and dangerous! I wonder how long it will take Cassie to tell everyone that she found a book as well.
–Revenge: Started tuning into this show. Not sure how I feel about it yet. Right now it's just something to watch on the ipad while I'm cooking dinner. I don't think I like it that much. Anyone else catch it?