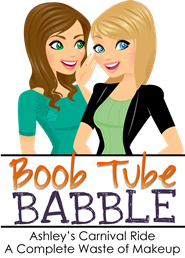 This week I've been anxiously waiting for our loan to fund. How many hoops must a homebuyer jump through? Uck. Also, I'm trying to soak up tv since once we move we'll probably be without for at least 3-5 days. Hopefully less!
So this week I watched all of my regulars, and as previously blogged, I started up with Once Upon a Time. This show is seriously awesome guys. If you're not watching it, start! I love fairytales and seeing them with a new spin is just awesome.
I'm not going to recap each episode of the shows I watched. But I will just give you a brief rundown of what's frustrating me:
-How I Met Your Mother: OMGosh! Robin and Barney kiss! But what does this mean for Barney and Nora? And Robin and Kevin? And what about that guy she keeps running into that Ted teased us with, saying their story wasn't over yet? I need more input!
-Desperate Housewives: Why are Lynette and Tom separated? It makes zero sense. They were the one couple who had the most chemistry. They better get back together before the series ends.
-Parenthood: How annoyed are you with Sarah? I'm so pissed at her. She finally gets the hunky teacher, and she's pinning away for her deadbeat rehab flunky ex husband? REALLY?! Also Jasmine and the doctor make me sad. Poor Crosby's face is pure heartbreak when she says it's getting serious. Oh and Haddie's reaction to her baby sister is pretty selfish, though I think I'd be annoyed if my parents had a baby when I was 17 too.
-Parks & Recreation: I want Leslie and Ben back together. Boo to their breakup. It sucks. The end.