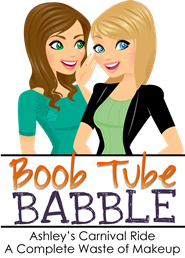 It was premiere week for Parenthood and Vampire Diaries and three highly anticipated sitcoms, Up All Night, The Secret Circle and Free Agents. I was so excited to have new shows to watch!
1. Parenthood- A lot more than a summer has passed for the Bravermans. It's actually been 6 whole months since we left off with the fast talking family. Christina is hugely pregnant but still working hard to support the family, while poor Adam is lost without a job. Crosby is still obviously missing Jasmine, but he's back to his womanizing ways. Luckily he is managing to still be a good daddy to the ever adorable Jabar. I was excited to see the hot teacher Sean make an appearance and I think we'll be seeing more of him in Sarah's life. I'm heartbroken for Haddie and her relationship, but I know that needs to end and fast. Alex is a hot mess, and he really shouldn't be hanging out with a senior who is just harmlessly being that, a senior in high school. As great a guy as he is, he's got way too many grown up problems and Haddie should focus on enjoying her youth. I feel terrible for Julia, and it must be so hard watching your sis in law swell with her third pregnancy while she's desperately trying for a second. I have a feeling she's going to offend the crap out of the latte girl when she asks if she can adopt her baby. But we'll see, maybe it'll be fate intervening.
2. Up All Night-I've been waiting all summer for this show. I love love love Christina Applegate and I love the whole premise of the show. It didn't disappoint. The first scene, best quote, was "Quit saying there's a baby in there. It's like there's a baby hiding in the closet with a knife or something." Bahahahahaha, hilarious. Then the swearing scene. This is going to be a bleeping amazing show!!
3. The Secret Circle-All I will say is if you like Twilight, or Vampire Diaries, or any show with a supernatural vibe, you will LOVE The Secret Circle. Cassie is a recent orphan who moves in with her grandmother to a small town and discovers she's a witch.
4. Tia & Tamara-Best quote of the episode, "You just don't eat a pregnant lady's cupcake." Seriously, did Tamara have a death wish?! I can't believe Tamara is so bad about learning how to incorporate Adam's things into her condo. A lot of his stuff isn't that bad actually. The clutter I don't like, but he does have some great trinkets. She just needs to make him a man cave. It's also really bad that she's constantly calling the condo "her place". It's their place! They just really need to move to a new place that's neutral. I also think it's sort of silly that Tamara is seeing a therapist. I think she just needs to grow up a little. Tia seems a lot more mature and able to handle stress than her twin.
5. The Lying Game- The more I watch this show, the more I can't stand Sutton. I guess maybe that was the writer's goal? Sutton is mad because Emma is "screwing up her life one yearbook page at a time" when really she's just making her a better, nicer, more caring person. It's revealed at the end of this episode that the twins' mother is actually still alive, and living in a nearby mental hospital. I'm ready for the next episode!
6. Free Agents-Mehhhh. I don't know about this show. Pilots are sometimes weak so I will give it another shot, but so far I'm not that impressed. I like the cast so I had high hopes, but the storyline was so sad. A woman whose fiance died a year ago, and a man who's going through a divorce. Sad sad sad. And we're supposed to laugh at their misery?
7. Vampire Diaries-Elena has been searching for Stefan who is off killing people and doing Klaus's bidding. He's indebted to him for saving Damon's life. Jeremy is seeing dead people everywhere he goes. Oh and he got way way hotter this year. There are an awful lot of hotties on this show. I think it's the main reason I watch. 🙂 I'm not a big fan of all the blood and guts, but I like the rest. I felt so bad for Elena and her heartbreak over knowing that Stefan is now a killer. But the phone call between them was one of those bittersweet and romantic moments that makes the show. I was so excited that Caroline and Tyler hooked up. Um, yum! But I can't believe his mom shot Caroline with vervane. Craziness!